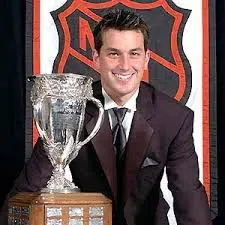 (Photo: Hockey Hall of Fame.com)
The Belleville Sports Hall of Fame holds its 23rd Induction Ceremonhy this Saturday 1 at the Quinte Sports and Wellness Centre.
This year the local shrine will add 6 individuals and one team making it the largest induction since the inaugural event in 1988.
Andrew Raycroft is among this years inductees. The 38 year old Belleville native began his hockey career in the Belleville Minor Hockey House League at age 6, then moved to the "AAA" Quinte Red Devils, followed by the Wellington Dukes then the Sudbury Wolves of the OHL. Raycroft was traded to Kingston in 1999 where he was selected the OHL Goaltender of the Year and won the Red Tilson Trophy as the Most Valuable Player in the League. He won the 2004 Calder Trophy as the NHL's Rookie of the Year with the Boston Bruins and would later set a Toronto Maple Leafs record by appearing in 72 games during the 2006-2007 season.
Andrew went on to play 280 games in the National Hockey League with Boston, Toronto, Colorado, Vancouver and Dallas and finished his career with seasons in Italy and Sweden. Following his retirement he relocated to the Boston area.
Raycroft will join Brian Price, Dennis Stark, Drew Ross, James Hurst, Terry Wellesley and the 1988 Belleville Enright Midget Girls Softball Team at Induction ceremonies this Saturday at 1 in the Gymnasium at the Quinte Sports and Wellness Centre. The public is welcome to attend.
Stories on all of the inductees will appear through the week on quintenews.com.