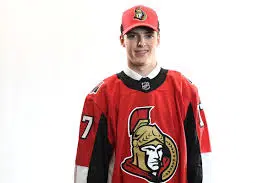 Norm Batherson played 46 games for the Belleville Bulls in the late 1980's. 30 years later son Drake Batherson will also suit up for a Belleville hockey team.
Considered to be one of the Ottawa Senators top prospects the 20 year old Batherson will first hone his skills with the Belleville Senators of the AHL. Batherson starred with Team Canada at last year's World Juniors. He was practical about starting his Pro career with Belleville.
The NHL Senators want Batherson to do more than adjust to the pro style of hockey.
The B-Sens camp grew by two after veteran Jim O'Brien and Paul Carey cleared NHL waivers yesterday.
O'Brien was a crowd favourite at the C.A.A. Arena last season. He scored 13 goals and 16 assists in 60 games with Belleville before an injury ended his season.
Carey played with the New York Rangers last year scoring 7 goals and 7 assists. Prior to that he played for Belleville's new head coach Troy Mann with the Hershey Bears. Carey scored 55 points in 55 games for Hershey two years ago.
The B-Sens are on the ice this morning at 10:30 as they prepare for a pair of exhibition games with the Laval Rocket, Friday and Saturday at the CAA Arena.
Belleville's training camp is open to the public.