The brand new 21,000 square foot facility that will be the Quinte West Fire Department headquarters was officially opened Wednesday afternoon.
Quinte West firefighters, Quinte West council, other area fire department representatives and many residents were on hand for the ceremonies that took place at 46 Dixon Drive.
Fire Chief John Whalen says this day is a big deal for more than one reason.
AUDIO
Quinte West Mayor Jim Harrison called it a bittersweet day as the ribbon was cut to officially mark the opening of the new fire hall in Trenton.
What began as a discussion 20 years ago became a reality today, something he says is well worth it.
Fire Chief John Whalen leads the procession to begin the grand opening ceremonies of the new fire station in Trenton. (Photo: Amanda Smith/Quinte News)
Harrison says they were fortunate to have a local company come through for them to make it happen.
AUDIO
The facility came with a $7.1 million price tag and was completed on time and on budget.
Not only will firefighters be based out of the new station, it will also be the home of Fire Prevention, administration, Fire Chief Whalen and Deputy Fire Chief Dan Smith.
The building is also post-disaster rated to ensure it remains operable in an emergency.
Whalen told those in attendance that with the resources and talent available in this area, thanks to area fire departments, the public can be at ease if a disaster were to ever strike.
The building will act as an alternate emergency operations centre for the city during a disaster.
Some of the new features include: backup generators capable of providing 100% power, dual access points for optimal response time, four drive through apparatus bays and state of the art workout facilities.
Bay of Quinte MPP Todd Smith and Bay of Quinte MP Neil Ellis were also on hand to mark the occasion.
Harrison says he is quite pleased with the new facility and it will serve the community for a long time.
It was a packed house at the new Quinte West fire station in Trenton for the grand ceremony on October 10, 2018. (Photo: Amanda Smith/Quinte News)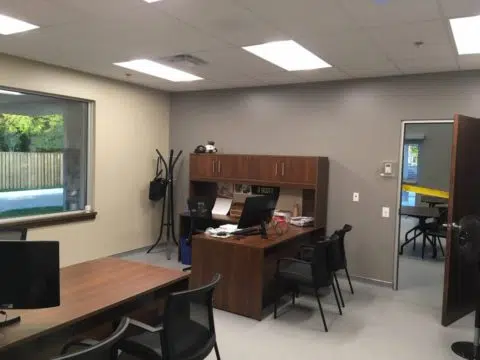 The new fire prevention offices at the new Quinte West station headquaters. (Photo: Amanda Smith/Quinte News)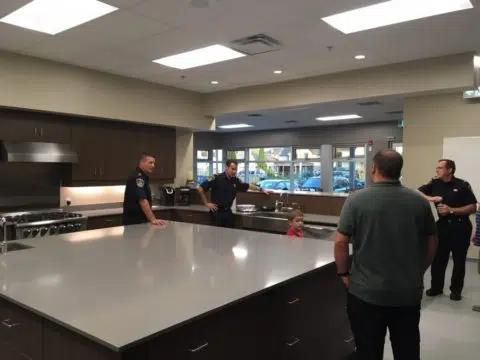 The kitchen at the Quinte West fire station headquarters. (Photo: Amanda Smith/Quinte News)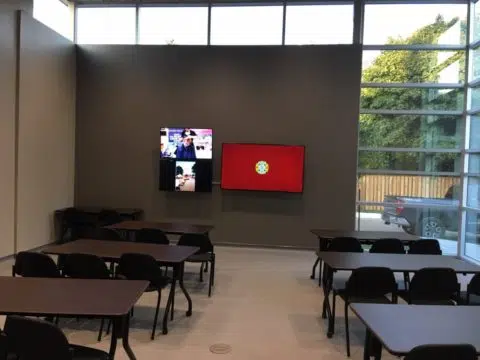 One of the meeting rooms available for training purposes at the new Quinte West fire hall. (Photo: Amanda Smith/Quinte News)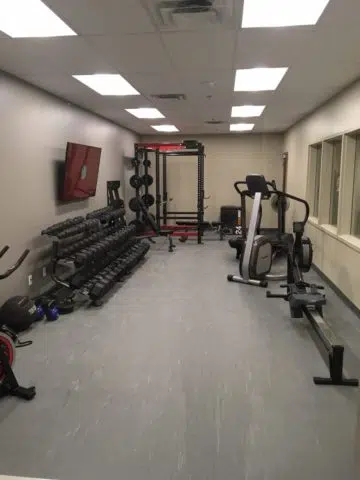 The new gym available for firefighter use at the Quinte West fire headquarters. (Photo: Amanda Smith/Quinte News)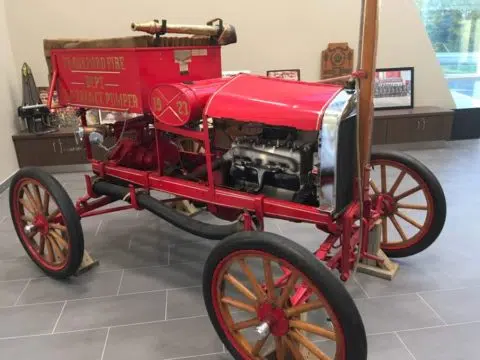 One of the pieces of Quinte West fire department history on display at the new station on Dixon Drive. (Photo: Amanda Smith/Quinte News)