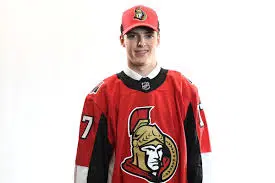 (photo:silversens.com)
30 players hit the ice this morning as the Belleville Senators open their second AHL training camp at the newly named CAA Arena.
Most of the players have been in the Ottawa Senators camp for the last 10 days.
Top prospects Logan Brown and Drake Batherson are among the group in Belleville which also includes newly acquired Rudolfs Balcers, acquired in the Erik Karlsson trade and defenceman Julius Bergman who came to the Senators from San Jose in the Mike Hoffman deal.
A complete training camp roster is below.
Two goaltenders, 11 defensemen and 17 forwards are among the first wave of players re-assigned by the Ottawa Senators. 15 played in Belleville last season.
The B-Sens will practice today, tomorrow and Wednesday at 10:15 and Thursday at 9:30. All sessions are open to the public.
Belleville hosts the Laval Rocket(Montreal Canadiebns) for pre season games this Friday and Saturday. Belleville will open the season in Utica on October 6th. Belleville's home opener is October 17th when they host the Binghamton Devils.
Belleville Senators Training Camp Roster
Two (2) goaltenders, 2017-18 team(s):
Filip Gustavsson (Belleville – AHL, Luleå – Swe-Jr., Luleå – SHL)
Marcus Hogberg (Belleville – AHL, Brampton – ECHL)
Eleven (11) defencemen, 2017-18 team(s):
Julius Bergman (San Jose – AHL)
Erik Burgdoerfer (Belleville – AHL, Ottawa – NHL)
Andreas Englund (Belleville – AHL, Ottawa – NHL)
Macoy Erkamps (Belleville – AHL, Brampton – ECHL)
Austin McEneny (Kitchener – OHL, Windsor – OHL)
Jordan Murray (Belleville – AHL, Brampton – ECHL)
Stuart Percy (Rochester – AHL)
Jonathan Racine (Ontario – AHL, Manchester – ECHL)
Patrick Sieloff (Belleville – AHL, Ottawa – NHL)
Chase Stewart (Rimouski – QMJHL)
Kelly Summers (Clarkson – ECAC)
Seventeen (17) forwards, 2017-18 team(s):
Rudolfs Balcers (San Jose – AHL)
Chase Balisy (Springfield – AHL, Florida – AHL)
Drake Batherson (Cape Breton – QMJHL, Blainville-Boisbriand – QMJHL)
Anthony Beauregard (Laval – AHL, Concordia – OUA)
Logan Brown (Windsor – OHL, Kitchener – OHL, Ottawa – NHL)
Daniel Ciampini (Belleville – AHL, Brampton – ECHL)
Gabriel Gagne (Belleville – AHL)
Joseph LaBate (Utica – AHL)
Boston Leier (Belleville – AHL, Acadia – AUS)
Aaron Luchuk (Windsor – OHL, Barrie – OHL)
Nick Paul (Belleville – AHL, Ottawa – NHL)
Jack Rodewald (Belleville – AHL, Ottawa – NHL)
Ryan Scarfo (Belleville – AHL,Union – ECAC)
Ben Sexton (Belleville – AHL, Ottawa – NHL)
Jordan Stallard (Prince Albert — WHL)
Andrew Sturtz (Belleville – AHL, Penn State – Big-10)
Adam Tambellini (Hartford – AHL)