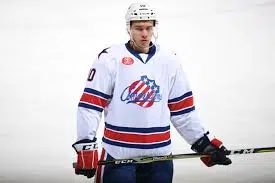 Belleville Senators fans get their first look at the team in game action tonight when they host the Laval Rocket (Montreal Canadiens) for a pair of AHL exhibition games.
There are 34 players in camp meaning that many are auditioning for jobs. One newcomer who won't have to audition is veteran blue liner Stuart Percy. The former first round pick of the Toronto Maple Leafs was a key off-season acquisition for Belleville. He likes what he sees on the Sens roster.
Game time for tonight and tomorrow at the CAA Arena is 7 o'clock. CJBQ will broadcast every B-Sens game this season for Eastern Overhead Doors and Deerhaven Farm and Garden.
Belleville will reduce their roster following Saturday's game.
Belleville opens the new AHL season on Saturday October 6th in Utica against the Comets. (Vancouver Canucks). The home opener at the CAA Arena is Wednesday October 17th with the Binghamton Devils in town.
Former Belleville Senator Max McCormick scored the winning goal as Ottawa defeated the Chicago Blackhawks 2-1 in an NHL exhibition game. Defenceman Max Lajoie picked up his 2nd assist of the pre-season. The 20 year old Lajoie is making a determined effort to stick with Ottawa. If not he'll be in Belleville this season.