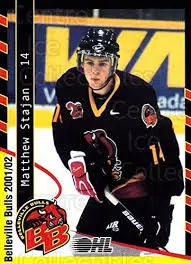 (amazon.com)
After 13 seasons in the NHL, former Belleville Bulls star Matt Stajan is headed to Europe to finish his career.
The 34 year old Stajan has signed with the Munich Red Bulls of the Deutch League in Germany. He spent the last 8 1/2 seasons with Calgary after being dealt to the Flames by Toronto in the Dion Phaneuf trade. He scored 413 points in 1003 NHL games.
The classy Stajan spent 3 seasons in Belleville from 2000 to 2003 scoring 206 points. In his final season Stajan centred the Bulls "Executive Line" with captain Cody McCormick and fellow assistant captain Adam Paiment.
Stajan was a second round draft pick of the Toronto Maple Leafs.