The Quinte Skyhawks Junior Football club closed out their successful inaugural season in the Ontario Varsity Football League with an athletic banquet and awards night.
Quarterback Carter Stephens was selected as the Tlitzen Offensive Most Valuable Player while linebacker Jakob Akey was named the Defensive MVP.
The complete list of award winners is listed below.
The Skyhawks hope to add a senior team in 2019
Tlitzen Defensive MVP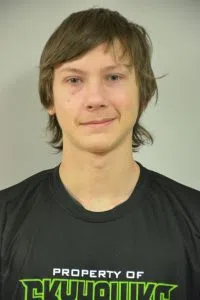 Jakob Akey
Tlitzen Offensive MVP

        Carter Stephens
Defense
Top Defensive Lineman – Griffin McFaul
Top Linebacker – Tanner Bell, Nolan Price-Weagant
Top Secondary – Liam Wood
Offense
Top Offensive Lineman – Kameron TurnerTop Running back – Austin Grills
Top Receiver – Isaac Shire
JB Print Special Teams Award
Tom Cavan
Bay Subaru Skyhawks Coach of the Year Award
Scott Shortly
No Limits Organization Community Builder Award
Matthew Thorn
Nick Parks
Belcon's Volunteer of the year award
Rick Little
Palmer StephensSkyhawk Award
Jose Dava