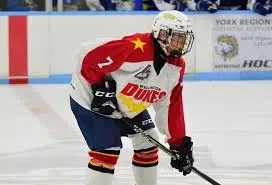 Wellington Dukes defenceman Zac Uens has been named a "Player to Watch" for the 2019 NHL Draft.
The 17 year old Belleville native and graduate of the Quinte Red Devils "AAA" hockey program is in his second season with Wellington. In the preliminary list by NHL Central Scouting, the 6-1″ 175 pound Uens is forecast to go between rounds 4 and 6.
Uens has scored 2 goals and 7 asssits in 11 games with the Dukes this year. He has committed to play for Merrimack College in Massachusetts in 2020.