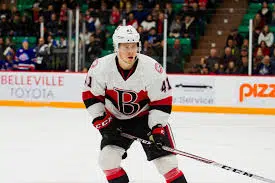 The Ottawa Senators have sent forward Filip Chlapik and defenceman Christian Wolanin to their American Hockey League team in Belleville.
Both had outstanding camps with Ottawa and will be among the first call-ups if needed.
Chlapik played 52 games in Belleville last season scoring 11 goals and 21 assists. He also played 20 games with Ottawa scoring a goal and 3 assists.
Wolanin joined Ottawa for the final 10 games of the season after leaving the University of North Dakota. He had a goal and two assists.
The B-Sens play two exhibition games with the Laval Rocket at the CAA Arena tonight and tomorrow at 7. CJBQ will have the broadcasts for Eastern Overhead Doors and Deerhaven Farm and Garden. Belleville will reduce their roster following tomorrow's game.