Local landlords quizzed Belleville's mayoral candidates about various housing-related issues on Monday, at a meeting hosted by the Quinte Region Landlords' Association.
Topics ranged from the effect of high property taxes on multi-residential building owners, help dealing with tenants who leave without paying water bills and thoughts on redeveloping the downtown housing market.
Landlord Association President Robert Gentile told reporters it was a robust discussion that did yield some answers.
Gentile added that while about 80% of housing-related issues are handled at the provincial and county levels, it is important for municipal candidates to hear what landlords are dealing with.
Below is a brief rundown of some of the issues discussed on Monday:
Tax Rate changes
Most of the candidates agreed that it's hard to take from one tax base and shift the burden to another, like commercial, or residential property owners, with Mayor Taso Christopher noting that the only way to drop the rate, would be to lower services.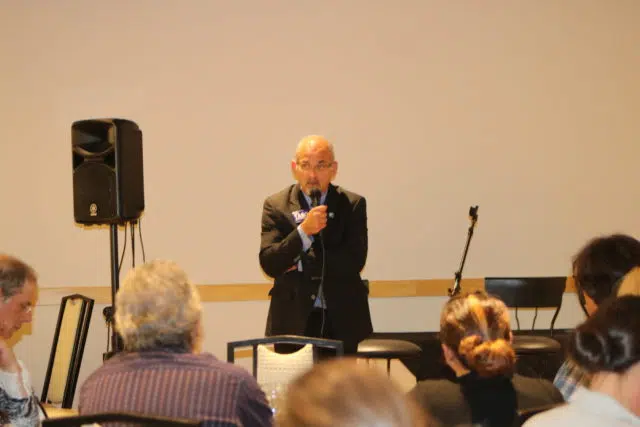 Creating More Affordable Housing

With landlords claiming government pressures are causing them to have to raise the rent, the discussion shifted to how to make housing more affordable for landlords and have those savings passed on to tenants.
Panciuk's plan is to look at potential cost reductions on things like applications or development charges and to help landlords secure higher-level government funding.
He also suggested that, if he were elected, he would hold a housing summit early in the new year, to address the growing housing crisis.
Boyce agreed that the municipality needs to find ways to work cooperatively with landlords.
Jenkins also agreed that cooperation is key, but also floated the idea to re-arrange the city's casino reserve fund and see if more money could be allocated to housing and perhaps be passed off to help landlords, by providing incentives.
Christopher noted the discrepancy in salaries in the city and says it's not a solution that can be solved overnight.
Converting rental units into condos/commercial properties to residential
When asked about converting rental units into condos, or commercial properties (specifically in the downtown) to residential units, Christopher said all landlords have to do is bring those issues to planning,have them be heard and go through the process.
Jenkins said he doesn't think it should be up to the mayor's office to make that decision, but that the city should be more aggressive in helping landlords, potentially by waiving development fees where possible.
Boyce said he understands the need to be free to make those types of business decisions but the proper channels need to be followed to avoid tenants being forced into a situation they don't want to be in if their landlord wants to convert the rental unit into a condo.
Panciuk suggested considering asking council to implement a conversion freeze, since we're in the middle of a housing crisis.
Dealing with delinquent tenants
Another issue that raised many opinions was how to help landlords recoup costs from delinquent tenants.
For example, if a tenant's lease requires them to pay the water bill and they leave without paying, the landlord is on the hook for that cost.
Association members pressed the candidates to give ideas on how they would help to protect landlords when this happens.
Boyce cited some other municipalities, like Hamilton, which lay out up front that those costs are to be handled by the landlord, so there are no surprise bills that pop up.
Panciuk suggested creating a "loss pool" of funds, that could be accessed when the situation arose.
Jenkins and Christopher both agreed with the other candidates, that since landlord/tenant disputes are handled at the provincial level, they would help to advocate for landlords who are trying to have cases heard.