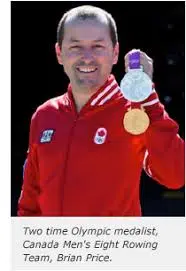 (Photo: rbc.com)
This year's 23rd induction ceremony for the Belleville Sports Hall of Fame will include world champions, a Grey Cup champion, a major NHL award winner and an Olympic gold medalist. That would be Brian Price, the coxswain of Canada's Men's 8 rowing team that captured gold in Beijing in 2008 and silver in London in 2012.
Price competed in three summer Olympics, was part of three World Championships and five World Cups.
Price began his rowing career while a student at Moira SS, joining the Quinte Rowing Club in 1995. In 1998 he joined the National Rowing Team. Being slight in stature, the role of Coxswain was a natural for Brian and he was at the top of the world in this position for over a decade.
The two-time Belleville Athlete of the Year is also a member of the British Columbia Sports Hall of Fame and was inducted into the Canadian Olympic Sports Hall of Fame in 2013.
He was also awarded the 2007 and 2008 Rowing International Achievement Award. In 2008 his team was the CBC Team of the Year and received the Rowing Canada Order of Merit. In 2012 Brian was awarded the Queen Elizabeth ll Diamond Jubilee Medal.
Brian resides in Orangeville with his wife Robbi. They have two children – Victoria and Brianna. He currently is active as a Motivational Speaker, his major topic being ' Cancer Survivor to Olympic Champion.'
Brian Price will be joined by Andrew Raycroft, Dennis Stark, Drew Ross, James Hurst, Terry Wellesley and the 1988 Belleville Enright Midget Girls Softball Team at induction ceremonies. They will be held this Saturday at 1 p.m. in the gymnasium at the Quinte Sports and Wellness Centre.