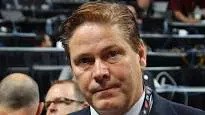 The man who played a primary role in relocating the Ottawa Senators American Hockey League affiliate from Binghamton New York to Belleville, has resigned.
Randy Lee stepped down as assistant general manager of the Ottawa Senators and by extension general manager of the Belleville Senators while he faces harassment charges in Buffalo. Lee had been suspended by the NHL team in June.
Lee is accused of making lewd comments and rubbing the shoulders of a 19-year-old male shuttle driver in May, when he was in Buffalo, N.Y. for the NHL's pre-draft scouting combine. Lee has pleaded not guilty and his lawyer is seeking to have the charges dismissed, however the court case has lingered on all summer and is now delayed to September 13.
Lee joined the Senators as a video coach in 1993 and was one of the longest serving people with the organization.
Ottawa expects to have a replacement in place by the opening of training camp September 13.
In the meantime, Senators General Manager Pierre Dorion has handled the G.M.'s job in Belleville. Dorion has signed a number of free agents during the off season including goaltender Mike McKenna, defenseman Stuart Percy and forwards Adam Tambellini, Paul Carey, Chase Balisy and earlier this week, Joe LaBate.